MIT-developed process could offer nontoxic alternative to environmentally harmful chemicals.
Fabrics that resist water are essential for everything from rainwear to military tents, but conventional water-repellent coatings have been shown to persist in the environment and accumulate in our bodies, and so are likely to be phased out for safety reasons. That leaves a big gap to be filled if researchers can find safe substitutes.
Now, a team at MIT has come up with a promising solution: a coating that not only adds water-repellency to natural fabrics such as cotton and silk, but is also more effective than the existing coatings. The new findings are described in the journal Advanced Functional Materials, in a paper by MIT professors Kripa Varanasi and Karen Gleason, former MIT postdoc Dan Soto, and two others.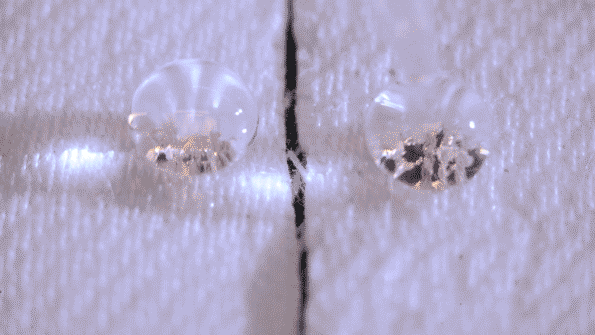 Using the iCVD coating process, which does not involve any liquids and can be done at low temperature, produces a very thin, uniform coating that follows the contours of the fibers and does not lead to any clogging of the pores, thus eliminating the need for the second processing stage to reopen the pores. Then, an additional step, a kind of sandblasting of the surface, can be added as an optional process to increase the water repellency even more. "The biggest challenge was finding the sweet spot where performance, durability, and iCVD compatibility could work together and deliver the best performance," says Soto.
The coated materials have been subjected to repeated washings with no degradation of the coatings, and also have passed severe abrasion tests, with no damage to the coatings after 10,000 repetitions. Eventually, under severe abrasion, "the fiber will be damaged, but the coating won't," he says.
The team, which also includes former postdoc Asli Ugur and Taylor Farnham '14, SM '16, plans to continue working on optimizing the chemical formula for the best possible water-repellency, and hopes to license the patent-pending technology to existing fabric and clothing companies. The work was supported by MIT's Deshpande Center for Technological Innovation.