Simulation is bringing products to market faster – and letting manufacturers offer new value-added services
Forgot your pencil? Nowadays, if you work in manufacturing, that's probably not as much of a problem as it used to be. Gone are the days of blueprints, rulers and pencil-sharpeners. Make way for simulation.
Of course, simulation in itself isn't new; companies have been using it for some time now. But in the era of the Internet of Things (IoT) and next-generation autonomous and connected vehicles, simulation software is becoming ever more important. When there are a lot of driverless cars, not the few here and there we have today, how will they behave on our roads? How will they affect traffic jams, and do we need to change our infrastructure and upgrade our street furniture for a seamless transition to an autonomous future? Simulation is key to predicting what will happen – and it's equally crucial to actually making these next-generation vehicles.
"With the urgency created by the market needs, and the accessibility to high-power technology and data, simulation is no longer thought of as a third wheel in product development, but rather poised to drive design decision making, and hence force a paradigm shift in the evolution of designs themselves," says Vikram Vedantham, senior business development manager for simulation at Autodesk.
Designs have evolved in complexity at a tremendous rate, he adds, and "the need for customisation implies that each design can behave very differently from a variant". There is a rapid adoption of new-age materials such as composites, and the rapid growth of plastics and additive manufacturing – which change the way designs are built and studied to understand manufacturability and performance.
"Prior art, tribal knowledge and experience are certainly great guiding pillars in decision making, but design complexity and the need for innovative designs establish simulation as a critical toolset for detailed design insights throughout the product development cycle," says Vedantham.
A screenshot of an interactive Shop Floor (Credit: Dassault Systemes)
A step ahead
Fabien Letailleur, manager of the SIMULIA industry solutions brand at Dassault Systemes, agrees. "Only simulation can create a virtual equivalent of a product performing in a given setting, and inform engineers effectively so that they are able to adapt the designs that they are responsible for," he says.
Simulations are extremely useful to map many processes in manufacturing autonomous vehicles; take control units, which have to be larger than in non-autonomous vehicles, for cooling, structural integrity, and so on, says Letailleur. It's also possible to use simulations to evaluate driver interactions with Advanced Driver Assistance Systems, driver comfort based on the behaviour of autonomous vehicles, and for radar systems, he adds.
Thanks to simulation software, it's now possible to predict how an industrial component is going to operate and respond to the environment – well before the product gets to market. Not only will this improve the design and drive down maintenance costs, but it will also streamline operations, said Chris MacDonald, a senior director at PTC, at a recent conference held by ANSYS in Tokyo. "Dynamic system models with connected insight, sensors, multi-physics, data from virtual sensors… together that creates not just a digital representation but enriched complex analysis," he said.
Simulation allows for the so-called Digital Twins to come to life – a product that is the exact copy of the real thing, but in a virtual world. "Our ability to be proactive when we service that product becomes a lot more powerful when we can expose our simulation, bring our smart connected world together, and build both deductive and inductive learning models. Digital Twin is a game changer for the industry."
Getting real
Another game changer is realtime simulation. "Having access to real-world data in real time opens up new ways to provide value-added services to end users," says Letailleur. "For example, when a car travels over a pothole, sensors measure the force transmitted to the chassis and body and send that data to the cloud. Simulations can then be performed using the force data on a digital version of the vehicle to evaluate potential damage to the chassis or body." The driver can then be alerted about the severity of the damage and the maintenance or repair procedures needed to fix it.
"This new business model allows the OEM to provide additional services to customers by combining real-world force data with simulation," he adds.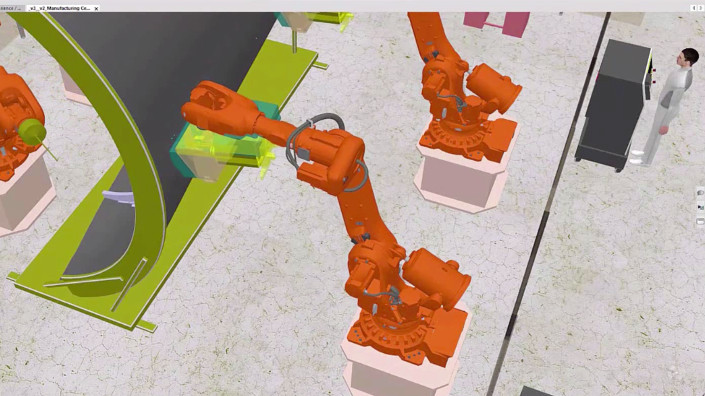 (Credit: Dassault Systemes)
At PTC, the Creo Product Insight software is "the missing connection that enables IoT data to connect to CAD and consequently simulation," says Paul Sagar, the firm's vice-president of product management. "Real-world data is invaluable in the design process as it enables us to fully understand how a product is being used and how it is performing, and enables engineers to replace their design assumptions with actual factual data. This eliminates the risk of a design being over- or under-engineered, reducing the development costs."
And saving costs is crucial in manufacturing – as well as saving time. Lucid Air, for example, a new luxury-class electric vehicle from Lucid Motors, was built in just three years thanks to simulation, said Alberto Bassanese, the company's manager of multi-physics and optimisation, at the conference in Tokyo.
Even though Lucid Motors still visits the wind tunnel periodically, most development happens through simulation, he said. "It's all about reducing the impact outside of the car, a conflicting situation you can only access through simulation."
Freedom to experiment
It goes beyond that, of course. Simulation helps to derive insights early and often through product development, to guide design decision making, says Vedantham. "If used to determine durability and longevity of the product, simulation has already been shown to reduce engineering change orders and reduce warranty issues. Simulation also allows users to experiment with alternative materials and design variants and hence impact the 'green initiatives' within organisations."
Sagar of PTC agrees. "Simulations save companies money in multiple ways. The obvious one is reducing the number of expensive physical prototypes needed, but also there is the fact that more options can be evaluated, ensuring that a better design is achieved.
"This inevitably helps to reduce the Cost of Poor Quality by ensuring that the designs are engineered correctly the first time and reducing product recalls. Adding Creo Product Insight also then ensures that the engineering requirements and specifications are based on actual versus assumed data."
And what about safety? Simulation has long been applied to various crash situations – and, in the context of autonomous vehicles, "companies can use simulation to validate the programming of the car before having to put physical prototypes on the road; they can evaluate many more challenging situations in a shorter amount of time than in real life," says Letailleur.
Source: iMeche.org